by Kevin Zalaznik // 3.2.2013 // Recap
WILKES-BARRE, PA – Despite Maxime Clermont's 29 saves in his season debut, the Albany Devils lost, 2-1, in a shootout against the Wilkes-Barre/Scranton Penguins Saturday at Mohegan Sun Arena. Albany, which entered the game on a three-game winning streak, extended its point streak to four games.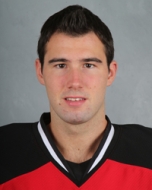 Clermont, who New Jersey reassigned to Albany from Elmira (ECHL) Thursday, appeared in his first AHL game since Apr. 15, 2012 versus Syracuse. Against the Penguins, he made seven saves in the first, 12 in the second, seven in the third and three in overtime. During the shootout, he denied the first three WB/Scranton tries before surrendering the final three.
The Devils led 1-0 during the first three rounds until WB/Scranton's Jayson Megna tied the game in the fourth. His teammate Tom Kostopoulos scored in the fifth, but was matched byJoe Whitney to extend the session. The Penguins Adam Payerl netted the winner in the sixth round.
With 26 saves in regulation and overtime and four saves in the shootout, WB/Scranton's Jeff Zatkoff earned his 18th win.
The Penguins got on the board at 9:25 of the first when Trevor Smith scored on the power-play. The Devils responded with a Darcy Zajac goal from Jacob Josefson and Scott Parse at 15:46 of the second.
Game Notes
– The Devils moved to 23-19-1-10, while the Penguins improved to 30-24-2-1. Albany has earned at least one point in 18 of 28 road games.
– Darcy Zajac netted his third goal in two games, increasing his season total to eight. He has points in three consecutive games with three goals and an assist.
– Scott Parse, who returned to the lineup for the first time since Feb. 10, registered his third point and fourth point of the season. Jacob Josefson posted his 13th assist and his 22nd point.
Lineup 
Goaltenders: Jeff Frazee, Maxime Clermont
Defensemen: Brandon Burlon, Eric Gelinas, Raman Hrabarenka, Dan Kelly, Corbin McPherson, Alexander Urbom
Forwards: Phil DeSimone, Mike Hoeffel, Cam Janssen, Jacon Josefson, Chris McKelvie, Scott Parse, Harri Pesonen, Mike Sislo, Joe Whitney, Chad Wiseman, Darcy Zajac, Steve Zalewski
Next Up
The Devils have a quick turnaround with a 3 pm contest against the Adirondack Phantoms Sunday at Glens Falls Civic Center. The game is the 10th of the Time Warner Cable Cup series; the Devils lead 6-2-0-1.