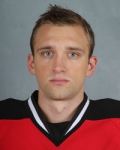 NEWARK, NJ – The last time Tim Sestito played an NHL contest was May 6, 2012 against Philadelphia during the Stanley Cup Playoffs. He may return to NHL ice Thursday when New Jersey faces off at Winnipeg. That's because Wednesday, New Jersey recalled the Rome, NY native from Albany.
Sestito has appeared in 64 career NHL games, posting three assists and 18 penalty minutes. In 2010-11, he played a career-high 36 NHL games and in 2011-12 appeared in 18 outings.
At the AHL level, Sestito has logged 50 games for Albany this year. He is sixth among active Devils with 20 points, backed by seven goals and 13 assists. Since entering the league at the end of the 2006-07 season, Sestito has appeared in 316 games, posting 112 points with 51 goals and 61 helpers.
////////////////////////////////////////////////////////////
| Career Statistics | | | | | | | |
| --- | --- | --- | --- | --- | --- | --- | --- |
| Season | Team | GP | G | A | PTS | +/- | PIM |
| 2012-13 Regular Season | Albany Devils | 50 | 7 | 13 | 20 | -2 | 88 |
| 2011-12 Regular Season | Albany Devils | 45 | 9 | 10 | 19 | 0 | 127 |
| 2010-11 Regular Season | Albany Devils | 23 | 5 | 8 | 13 | 7 | 28 |
| 2009-10 Regular Season | Lowell Devils | 66 | 18 | 17 | 35 | 1 | 38 |
| 2008-09 Regular Season | Springfield Falcons | 51 | 5 | 3 | 8 | -14 | 77 |
| 2007-08 Regular Season | Springfield Falcons | 77 | 7 | 10 | 17 | -25 | 175 |
| 2006-07 Regular Season | Wilkes-Barre/Scranton Penguins | 4 | 0 | 0 | 0 | -3 | 6 |
| TOTAL |   | 316 | 51 | 61 | 112 | -36 | 539 |