7:05, February 1, 2013
Dunkin Donuts Center, Providence, RI
Albany 1

17-15-1-8

Providence 5

23-16-0-3
| | 1 | 2 | 3 | T |
| --- | --- | --- | --- | --- |
| Devils | 0 | 0 | 1 | 1 |
| Providence | 2 | 2 | 1 | 5 |
Highlights
Tim Sestito netted his sixth goal of the season
Bobby Butler extended his point streak to four games (1g-3a)
Harri Pesonen moved his point streak to three games (2g-2a)
Devils Downed At Providence
by Kevin Zalaznik // 2.1.2013 // Recap
PROVIDENCE, RI – The Albany Devils began their season-long, six-game road trip with a 5-1 setback against the Providence Bruins Friday at Dunkin' Donuts Center. The contest was the first for both teams since returning from an abbreviated All-Star break.
Tim Sestito registered his sixth goal of the season when he was setup by Bobby Butler and Harri Pesonen early in the third. Pesonen sprung an odd-man rush, and Butler found Sestito, who outlasted Providence netminder Michael Hutchinson at 3:53 of the third.
The Bruins produced the majority of their goals during a 10 minute span, which included a pair of tallies by Maxime Sauve. He opened the scoring at 18:33 of the first and made the score 3-0 at 6:11 of the second. Torey Krug and Ryan Spooner also found the back of the net. Krug scored at 19:39 of the first and Spooner tallied on the power play at 7:52 of the second. After Sestito's goal, Kyle MacKinnon capped the scoring at 16:31.
In his 27th appearance, Keith Kinkaid made 33 saves on 38 shots. At the other end, Hutchinson improved to 5-10-1 by making 20 stops on 21 attempts.
Game Notables 
- The Devils, who are 17-15-1-8, ended a two-game winning streak; The Bruins, who are 24-16-0-3, extend their winning streak to four games. Albany is now 0-1-0-2 against Providence this season. The teams will meet for the final time on Apr. 5 at Times Union Center.
- Tim Sestito, who has a goal and two assists in the last two games, now has 17 points with six goals and 11 assists on the year.
- Bobby Butler extended his point streak to four games (1g-3a) and increased his point total to a team-leading 27 (17g-10a). Harri Pesonen moved his point streak to three games (2g-2a), giving him 20 points (9g-11a) this season.
- Keith Kinkaid suffered just his third regulation loss since Dec. 1, going 13-2-1-1 during that span.
- Scott Parse returned to the Devils lineup for the first time since Dec. 29. He made his 10th appearance of the season.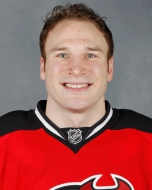 - Cam Janssen, who was loaned from New Jersey to Albany Thursday, appeared in his 109 career AHL contest and his first since Jan. 26. 2008 when he was with the Lowell Devils.
- After making his NHL debut Tuesday at the Boston Bruins and notching his first career assist Thursday against the New York Islanders, Matt Anderson was returned on loan from New Jersey before the game. He did not play.
- Providence's Ryan Spooner led the way with a tally and two assists and Maxime Sauve posted a pair of goals.
Lineup 
Goaltenders: Keith Kinkaid, Jeff Frazee
Defensemen: Brandon Burlon, Eric Gelinas, Dan Kelly, Jay Leach, Corbin McPherson, Alexander Urbom
Forwards: Bobby Butler, Phil DeSimone, Mike Hoeffel, Cam Janssen, Chris McKelvie, Scott Parse, Harri Pesonen, Tim Sestito, Mike Sislo, Joe Whitney, Darcy Zajac, Steve Zalewski
Next Up 
The Devils head north of Providence for a 7 pm game against the Portland Pirates Saturday at Cumberland County Civic Center. Fans can follow the action on 104.5 "The Team" ESPN Radio or online at ahllive.com.
Albany Devils 1 at Providence Bruins 5
Friday, February 1, 2013 - Dunkin' Donuts Center
Albany 0 0 1 - 1
Providence 2 2 1 - 5
1st Period-1, Providence, Sauve 6 (Bartkowski, Miller), 18:33. 2, Providence, Krug 6 (Cunningham), 19:39. Penalties-Burlon Alb (delay of game), 1:00.
2nd Period-3, Providence, Sauve 7 (Warsofsky, Spooner), 6:11. 4, Providence, Spooner 9 (Camper, Krug), 7:52 (PP). Penalties-McPherson Alb (interference), 7:16; Robins Pro (roughing), 14:07; Urbom Alb (holding), 16:22.
3rd Period-5, Albany, Sestito 6 (Butler, Pesonen), 3:53. 6, Providence, MacKinnon 6 (Spooner, Bartkowski), 16:31. Penalties-served by Pesonen Alb (bench minor - too many men), 0:58; Krug Pro (slashing), 1:48; Hirschfeld Pro (goaltender interference), 4:30; DeSimone Alb (charging), 13:12.
Shots on Goal-Albany 7-6-8-21. Providence 13-18-7-38.
Power Play Opportunities-Albany 0 / 3; Providence 1 / 5.
Goalies-Albany, Kinkaid 14-8-4 (38 shots-33 saves). Providence, Hutchinson 4-10-1 (21 shots-20 saves).
A-7,458
Referees-Jean Hebert (43).
Linesmen-Todd Whittemore (70), Bob Paquette (18).
by Kevin Zalaznik // 1.31.2013 // Preview
Follow the Action
Radio: 104.5 "The Team" ESPN Radio
Online: ahllive.com
Twitter: @albanydevils, @albanydevilspr, #adevils
Storyline 
The Albany Devils begin their season-long, six game road trip against the Providence Bruins at Dunkin' Donuts Center Friday. This season the Devils are 9-6-1-3 on the road, including a 7-0-0-0 record when carrying a lead into the third period.
Notables 
- The Devils are third in the Northeast Division and 11th in the Eastern Conference at 17-14-1-8 (43 pts.), while the Bruins are second in the Atlantic Division and fifth in the conference at 22-16-0-3 (47 pts.), including a 12-7-0-3 home mark.
- Both games between these two teams this season (Nov. 9, Dec. 15) resulted in a 2-1 shootout win for Providence.
- The line of Bobby Butler, Joe Whitney and Steve Zalewski has produced 34 of the team's 108 goals and 39 of the club's 185 assists. Butler leads the team with 26 points (16g-10a), while Whitney is second with 24 points (11g-13a) and Zalewski ranks third with 23 points (7g-16a).
- Second-year defenseman Brandon Burlon has six assists in his last five outings, including back-to-back, two-assist performances against Bridgeport on Jan. 13 and at Adirondack on Jan. 18.
- Jamie Tardif leads the Providence with 29 points, including a team-high 20 goals. Additionally, he has produced eight power-play goals, nine assists and a plus-4 rating in 38 contests
- Between the pipes, rookie Niklas Svedberg has played 27 games, going 18-6-2 with a 2.34 goals-against average and a .921 save percentage. Michael Hutchinson has appeared in 16 contests, posting a 4-10-1 record with a 2.73 goals-against average and a .897 save percentage.
Last Meeting 
Dec. 15, 2012: Albany 1 vs. Providence 2 – Shootout 
The Devils attempt for a record sixth straight victory was halted by the Bruins, 2-1, in a shootout at Times Union Center. Jeff Frazee, who allowed just one regulation, helped keep Albany alive during a marathon shootout session. In the end, Providence's David Warsofsky netted the deciding goal in the ninth round, giving his team a 3-2 shootout advantage.
Bruins rookie defenseman Zach Trotman opened the scoring with a seeing-eye shot from the point at 10:46 of the first period. In the second, Adam Larsson and Joe Whitneyworked the puck near the top of the left face-off circle. Whitney walked the half-wall and then sent a pass through two defensemen and found a cutting Bobby Butler for the one-touch, power-play tally at 5:59. After a scoreless third and overtime, the Devils received shootout goals from Mattias Tedenby in the first round and Mike Sislo in the third. The Bruins had goals from Tardif in the second, Chris Bourque in the third and finally Warsofsky in the ninth round.
All-time Series 
All-Time: 24-15-3-6
Home: 14-7-0-3
Away: 10-8-3-3
2012-13: 0-0-0-2
Puck Drop
With the next two week filled with bus rides and overnight stays, captain Jay Leach is looking forward to getting on the road.
"In regards to our season this year, it's been a few road games, a few road games – you get into a little bit of a mode," Leach said after Wednesday's optional practice. "For us going onto the road, I like it. For whatever reason our game, it simplifies. We recognize what we have to do out there. Really I think it helps our team."
| | | |
| --- | --- | --- |
| | | |