7:30, February 9, 2013
Onondoga County War Memorial at Oncenter, Syracuse, NY
Albany 4

19-16-1-8

Syracuse 3

26-13-2-4
| | 1 | 2 | 3 | T |
| --- | --- | --- | --- | --- |
| Devils | 0 | 0 | 4 | 4 |
| Syracuse | 0 | 2 | 1 | 3 |
Highlights
Matt Anderson posted a goal and two assists for the second straight game
Scott Parse netted his first goal as a Devil
Albany scored four-straight goals in the third period
Third period drives Devils past Crunch
by Kevin Zalaznik // 2.9.2013 // Recap
SYRACUSE, NY – Facing a two-goal hole, the Albany Devils rallied in the third period to defeat the Syracuse Crunch, 4-3, Saturday at the Onondaga County War Memorial. The Devils scored four-straight goals during a 14-minute span, securing their second consecutive victory.
In three games since returning to the AHL, Matt Anderson has registered two, three-point games. On Saturday, he repeated his Tuesday performance with a goal and two assists for his fifth multiple-point outing of the year. Joe Whitney and Scott Parse also scored and Tim Sestito supplied the game-winning goal.
Albany trailed after Syracuse's Vladislav Namestnikov (1:39) and Tyler Johnson (19:48) established a 2-0 lead in the second.
Early in the third, Anderson won a footrace on a puck that was cleared out of the Devils defensive end. After gaining control, he turned and fired a centering pass to Whitney in front for a one-touch tally at 4:03. Approximately six minutes later, Eric Gelinas threaded a pass through the Crunch-filled neutral zone and sprung Parse for a breakaway. His first goal of the season came at 10:32 and was with the man-advantage.
The hard work of Chris McKelvie set up Anderson for the go-ahead goal at 12:01. McKelvie sprinted to gain control and left a pass in the slot of Anderson's ninth goal of the season. Sestito, who grew up in nearby Rome, NY, added to the advantage with a wraparound attempt at 17:40.
Johnson made the score 4-3 with 21.1 second remaining, but the Devils defense controlled the puck in the corner for the remainder of the game.
Keith Kinkaid earned his 16th victory by making 27 saves on 30 shots. At the other end, Dustin Tokarski stopped 18 of 22 attempts.
Game Notes 
- The Devils earned their first victory of the season when trailing after two periods. They are now 1-13-0-1.
- Matt Anderson, who now leads the team with 27 points (9g-18a), has produced (4g-11a) in his last 13 contests. For his career, he has registered 191 points (72g-119a).
- Joe Whitney is first among active Devils with 12 goals. He has points (1g-1a) in two-straight games and points (7g-4a) in 12 outings.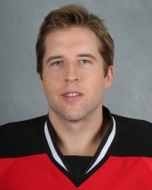 - Scott Parse registered his first goal as a Devil.
- Tim Sestito netted his seventh tally, giving him at least one point in three of the last five contests (2g-2a).
- Keith Kinkaid improved to 16-9-4 with a 2.49 goals-against average and a .913 save percentage.
- Andrei Loktionov made his Albany debut after being acquired by the New Jersey Devils from the Los Angeles Kings in exchange for New Jersey's fifth-round selection in the 2013 NHL Entry Draft. Loktionov centered a line of Harri Pesonen and Scott Parse.
Lineup 
Goaltenders: Keith Kinkaid, Jeff Frazee
Defensemen: Brandon Burlon, Eric Gelinas, Dan Kelly, Jay Leach, Corbin McPherson, Alexander Urbom
Forwards: Matt Anderson, Cam Janssen, Andrei Loktionov, Chris McKelvie, Scott Parse, Harri Pesonen, Tim Sestito, Mike Sislo, Joe Whitney, Chad Wiseman,Darcy Zajac, Steve Zalewski
Next Up 
The Devils have a short trip south to face off with the Binghamton Senators Sunday at 5:05 pm. Fans can follow the action on 104.5 "The Team" ESPN Radio or online at ahllive.com.
Albany Devils 4 at Syracuse Crunch 3 - Status: Final
Saturday, February 9, 2013 - Onondaga County War Memorial at Oncenter
Albany 0 0 4 - 4
Syracuse 0 2 1 - 3
1st Period- No Scoring.Penalties-Anderson Alb (interference), 9:29; McKelvie Alb (tripping), 19:29.
2nd Period-1, Syracuse, Namestnikov 3 (Wyman, Oberg), 1:39. 2, Syracuse, Johnson 21 19:48. Penalties-Angelidis Syr (interference), 2:25; Barberio Syr (slashing), 3:38; Gudas Syr (holding), 11:42.
3rd Period-3, Albany, Whitney 12 (Anderson), 4:03. 4, Albany, Parse 1 (Gelinas, Anderson), 10:32 (PP). 5, Albany, Anderson 9 (McKelvie, Zajac), 12:01. 6, Albany, Sestito 7 (Sislo, Wiseman), 17:40. 7, Syracuse, Johnson 22 (Connolly), 19:38. Penalties-served by Pesonen Alb (bench minor - too many men), 4:37; Nightingale Syr (delay of game), 9:28; Wyman Syr (boarding), 12:19; Urbom Alb (holding), 20:00.
Shots on Goal-Albany 7-6-8-21. Syracuse 9-9-12-30.
Power Play Opportunities-Albany 1 / 5; Syracuse 0 / 3.
Goalies-Albany, Kinkaid 16-9-4 (30 shots-27 saves). Syracuse, Tokarski 18-8-4 (21 shots-17 saves).
A-5,987
Referees-Chris Brown (86), Graham Skilliter (48).
Linesmen-Jeff Walker (28), Jim Harper (59).
by Kevin Zalaznik // 2.9.2013 // Preview
Follow the Action
Radio: 104.5 "The Team" ESPN Radio
Online: ahllive.com
Twitter: @albanydevils, @albanydevilspr, #adevils
Storyline 
The Albany Devils are in pursuit of their second straight victory after defeating Connecticut Tuesday. They travel to face the Syracuse Crunch tonight at the Onondaga War Memorial where Albany won three times last season (Nov. 12, Feb. 11 and Feb. 24).
Notables
- The Devils are fourth in the Northeast Division and tied for 12th in the Eastern Conference at 18-16-1-8 (45 pts.) with a 10-8-1-3 road record. The Crunch are second in the East Division and fourth in the conference at 26-12-2-4 (58 pts.), including a 10-7-2-2 home mark.
- Newly acquired center Andrei Loktionov could make his Devils debut. The four-year pro has logged 37 games for Manchester so far this season, recording seven goals and 15 assists for 22 points. His career AHL totals include 132 games with 29 goals and 68 assists for 97 points.
- Albany is coming off a 4-3 shootout victory at Connecticut Tuesday. Matt Anderson led the charge with a goal and two assists, while Phil DeSimone and Corbin McPherson also scored. In the shootout, Chad Wiseman and Anderson provided the tallies.
- Syracuse defeated Adirondack 4-2 at home last night. Brett Connolly had a pair of goals and Mike Angelidis and Richard Panik also scored. In goal, Dustin Tokarski made 24 saves on 26 shots.
- Tyler Johnson leads Syracuse with 39 points, backed by 20 goals and 19 assists. Additionally, he is a plus-17. Brett Connolly and Alex Killorn are next with 38 points each. Connolly has 19 goals and 19 assists, while Killorn has 16 goals and 22 helpers.
Last Meeting
Nov. 24, 2012: Albany 1, Syracuse 4 
During the second stop of a three-game weekend, the Devils lost, 4-1, against the Syracuse Crunch Saturday at Times Union Center. Joe Whitney registered his first goal of the season, but the Crunch received goals from Cory Conacher, Tyler Johnson, Alex Killorn and Richard Panik. Between the pipes, Keith Kinkaid made 21 saves on 25 shots. Syracuse's Riku Helenius posted the victory with 18 stops on 19 attempts.
Whitney's tally came as the Devils trailed 1-0 early in the second. Syracuse's scoring began with a blast from Conacher at 14:52 of the first. After Whitney's tally, the Crunch took the lead on Johnson's goal at 10:26 and Killorn's tally at 13:04 of the second. Panik concluded the scoring at 8:17 of the third.
All-Time Series 
All-Time: 24-21-1-4
Home: 11-10-1-3
Away: 13-11-0-1
2012-13: 2-1-0-1
Puck Drop 
Saturday's game will be the first of three meetings between the two clubs during a 10 game span. They will meet on Wednesday, Feb. 13 and Monday, Feb. 18 at Times Union Center.
| | | |
| --- | --- | --- |
| | | |